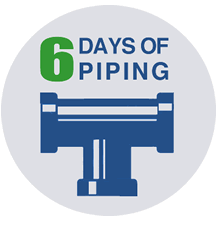 We've released a new online class called 3D Piping in 6 Days. It's a free 3 week video crash course designed to get you up and running very quickly using our Mech-Q tools.
We've designed this class to be step by step. So even if you are new to 3D, it's no problem. 3D Piping in 6 Days is unlike any other video course we have ever done.
During the course we provide our Mech-Q software at no cost. You'll be able to learn at your own pace too. Extra learning exercises is also be available.
In the free Piping Class will cover how to setup your drawing, create a 3D Piping Spool, add a parts schedule and much more.
So signup now! Click the get started button to receive the 6 part email series on 3D Piping – Again the class is free and will get you started with piping very quickly.
We've also got lots if other videos too – so please subscribe to our Youtube channel at youtube.com/cadavenue for more.